California saw a record high in the median price of an existing single-family home in March of 2021, according to the latest sales statistics from the California Association of Realtors (CAR), up nearly 24 percent from a year earlier. California has seen considerable growth in the median sales price of single-family homes since the onset of the COVID-19 pandemic. The question for many potential buyers, sellers, and investors is: will the boom continue?
"While intense home buying interest is the engine that continues to drive housing demand, a shortage of homes for sales is the rocket fuel pushing prices higher across the state. A lack of homes for sale is creating unprecedented market competition, leading to a record share of homes selling above asking price in March," said CAR President Dave Walsh.
California's supercharged housing market is a result of the pandemic reordering buyer priorities, increasing demand for single-family homes. Buyers may be priced out of the urban markets or simply seeking affordability and more spacious options in the suburbs. With corporate work-from-home policies unlikely to fully reverse, many prospective buyers are less concerned about potential commutes. Purchasing power and consumer confidence are high, with 30-year fixed-rate mortgages still historically low.
Although buyers are eager to buy homes, sellers have not been as zealous to list them. The CAR's March 2021 unsold inventory index – a measure of how long it would take to sell the supply of homes on the market – dropped to 1.6 months of housing inventory, down over 40 percent from the 2.7 months of supply in March 2020. As a result, homes are selling after only eight days on the market, a record low, down from 15 days a year ago, according to the CAR.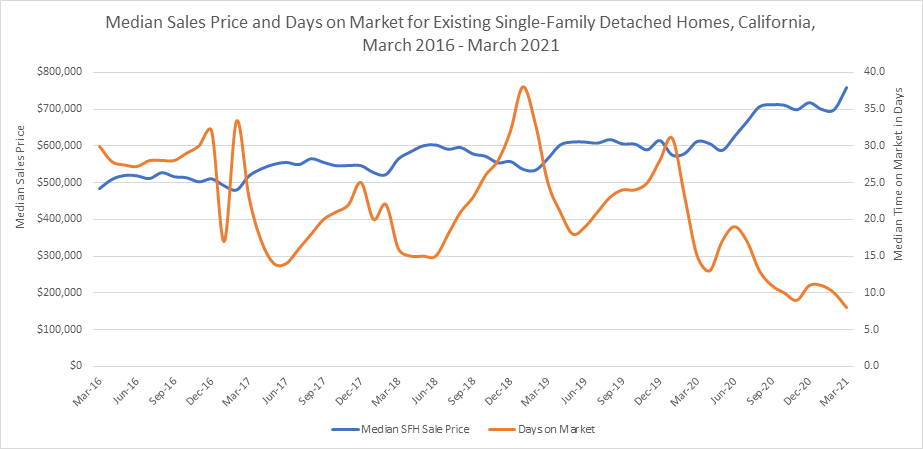 Source: California Association of Realtors
Three factors are driving low inventory. First, the ongoing uncertainty of COVID-19 and financial anxiety have kept many sellers on the sidelines. Some homeowners are concerned that they will not be able to find or afford a new home, while others anticipate a more favorable home sale price if they wait to sell, according to Zillow Research. Second, extensions to the Federal foreclosure moratorium and CARES Act mortgage forbearance program continue to keep foreclosure activity to historically low levels. The CAR estimates that as many as 60,000 homes may hit the market once foreclosures process. Third, although builder confidence is generally high nationwide, California housing starts have remained sluggish for more than a decade, hobbled by restrictive zoning that has created significant barriers for housing development. This is especially true in urban, coastal communities, which face a tension between housing affordability, economic growth, and environmental stewardship. Simplifying and accelerating the land-use and permitting processes and lowering impact fees would certainly boost housing supply by reducing housing development timelines and costs. However, such proposals frequently receive pushback from existing homeowners who are concerned that an increase in supply will reduce home values and increase congestion.
Due to their relatively limited supply, the price of single-family homes in California will likely continue to rise through the spring and summer months. Longer-term, important policy factors to watch closely include interest rates and the federal moratorium on foreclosures, which is set to expire on June 30, 2021. If the moratorium is not further extended—the Consumer Financial Protection Bureau (CFPB) has proposed a new rule that would effectively extend the moratoria to the end of the year—foreclosures may spur an increase in inventory and put modest downward pressure on prices starting in the fall of 2021. However, given the pent-up demand for housing in California and the fact that the Federal Reserve intends to keep interest rates at historic lows through 2023, prices are unlikely to fall until then.
---
Robert D. Niehaus, Inc. (RDN) is an economic consulting firm based in Santa Barbara, CA specializing in regional and resource economic analysis for public and private agencies and utilities. To learn more about RDN and our services, please visit our website or contact us.
To speak with an RDN representative about this release, please contact Andrew Clark, Marketing Manager, at Andrew@rdniehaus.com or 805-962-0611.